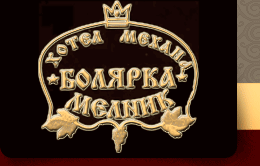 HOTEL PACKAGES "BOLYARKA" - MELNIK:

Two-days package (two nights with two breakfasts, and two dinners): Double room - 130 lv.
Three-days package (three nights with three breakfasts, and three dinners): Double room - 180 lv. The price of the packages is for two people.

The hotel has free internet - WiFi. In all packages includes free viewing of authentic Rome Bath/Turkish Hamam, situated in the courtyard of the hotel. Those prices include VAT and taxes! Packages do not apply to weekends and to the large national and Christian holidays.
One of the most ancient villages in Bulgaria: Amazing stone pyramids, unique landscape, fantastic night colours, secret Moon nights, rustling legends about love dramas and bloody battles, wild spring dawn, almod-trees and lilacs in blossom, thick and sweet wine, magnificent architecture and ruins from numerous remarkable monuments dated from the Middle Ages and the National Revival, rich centuries-long history